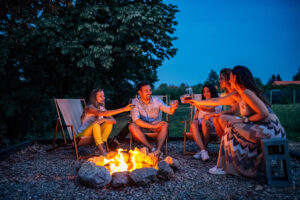 Now that Halloween has come and gone, it is finally time to get outdoors and enjoy the cooler weather. Here in East Texas, that means sitting around a fire pit with your friends and family, and what makes that truly special is the quality of conversation. With our high-quality kindling, you can be sure to start those conversations off right by showing your support for the special needs community of Texarkana.
At Redemption Ranch, we have a fun way that you can help support individuals with special needs through a positive and engaging employment ministry. These people can sometimes struggle in a traditional workplace environment, and employers can sometimes avoid hiring them in the first place, so we pride ourselves on being a great place to work and interact with others. Start your next fire with a great conversation about our community with kindling from Redemption Ranch!
Creating Meaningful Employment For The Special Needs Community
Here at our employment ministry, we understand the importance of a positive place to work. For those with special needs, this can be an especially valuable thing to accomplish. Unfortunately, not every employer feels the same, so it can be a struggle for them to find a career. This can hold them back in their development, and leave them either at home or with their healthcare provider.
That is why we started Redemption Ranch, as a place for these individuals to spend their day and interact with others. We understand the value that positive employment can provide, and we are proud to be an understanding environment for those who need a little extra help. At our ranch, we create high-quality items out of repurposed wood in order to give you a great gift while helping out the special needs community.
Backyard Bonfire? We Have You Covered With Games And Kindling
At your next backyard event, make sure that you are ready to go with unique and exciting gifts from Redemption Ranch. This all starts with a bag of our awesome kindling, which can get your fire started off right. Simply throw a bag underneath your logs and you are ready to go!
But that is not all that we create, and there is more fun for your backyard available in our shop. Check out our stacking brick tower game set for a fun and exciting way to pass the time. All of our products are crafted with love by the special needs community, so you know that you are giving to a great cause.
Be Ready For Your Next Get-Together With Redemption Ranch
When you want a way to spark the conversation around your fire pit, do so while supporting the special needs community of Texarkana. For more information, give us a call at Redemption Ranch in Texarkana, TX, at (903)244-1397!