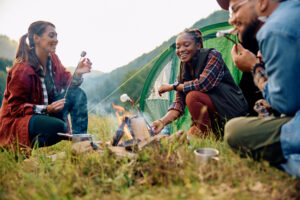 As the weather finally starts to cool off, be sure that you are ready for those friendly fall fires, either at the campsite or in your own backyard fire pit. This autumn, you have an opportunity to start your next fire with a product that not only helps you to warm up your hands and feet, but also your soul.
With kindling from Redemption Ranch in Texarkana, TX, you can support our local special needs community while having a little bit of fun. Our employment ministry provides a positive place for these individuals to grow and learn with a comfortable experience. As summer turns to fall, make sure that you are prepared with high-quality kindling to start your next fire, and do so with a purpose!
When You Plan Your Autumn Gatherings, Include Your Community
The start of fall is truly a magical experience, isn't it? As you start to pull out the pumpkins, be sure to keep the special needs community of Texarkana in mind. At Redemption Ranch, we strive to provide a helpful place for individuals with special needs to expand their capabilities in a comfortable environment. Finding employment in traditional workplaces can be a struggle for these people, so we are proud to give them a place to interact with others and work toward a common goal.
Our ranch works alongside the special needs community to create high-quality kindling out of repurposed wood, giving you a fun, affordable, and useful product. When you start your next campfire or spark up that unused fire pit, do so while helping others to have a valuable experience. This can be a great way to start a meaningful conversation with your friends and family, so let them know your values with our kindling.
Be Ready For The Holidays With A Gift That Gives Back
If you are like us, you are already planning your presents for the holidays. Those days are just around the corner, and it is never too early to prepare for Christmas. When you think about what you want to give to your friends and family, why not give something with a little more meaning than other gifts?
Kindling from Redemption Ranch makes for a great stocking-stuffer, or something to hand out to coworkers or at church. We also have fun backyard games and sign kits to share with the ones you most treasure. Check out our shop and find the right fit!
Find Out More About Redemption Ranch In Texarkana
When you light your next campfire, do so with a purpose. With our high-quality kindling, you can support the special needs community while having a little fun. To learn more about our employment ministry, give us a call at Redemption Ranch in Texarkana, TX, by calling (903)244-1397.