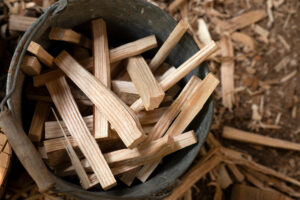 Some nonprofit fundraising efforts can feel a little tired, making it more difficult to capture the attention of potential donors. With the current move toward a healthy diet, how helpful does selling candy or cookies feel nowadays? Reach out to a trusted source of kindling to better light the way for your organization. This way, you can provide a helpful product, without the dietary questions of interested parents.
At Redemption Ranch in Texarkana, TX, we pride ourselves in our product and the social programs involved in the process. Our kiln-dried wood products are made possible through our day programs, bringing a positive and collaborative environment to those with special needs. In addition to our independent sales, we are happy to work with qualified nonprofits for your fundraising efforts. Look to us for a unique product that can help even the healthiest of eaters. Our kindling brings people together, both around the fire and in the progress of your charitable organization!
How Our Day Programs Foster Independence
For those with special needs, the positive interaction with others can be a significant hurdle, if they do not have a helpful environment in which to grow. At Redemption Ranch, we have spent over two decades developing programs for individuals, so that they start to feel more comfortable meeting new people. From other program attendees to customers, give them the opportunity to thrive in a way that only new connections can bring.
The collaborative approach of our programs gives people a chance to share a collective goal, all while creating a wonderful product. Kindling brings people together, as a campfire is its own form of community. Foster our day programs with a purchase of a bag today, and discover the quality of our material.
Using Kindling As A Fundraising Endeavor
Every bag of our firestarters is kiln-dried from repurposed wood, so our product brings an eco-friendly marketability to your nonprofit fundraiser. This is just one of the many benefits of choosing kindling, rather than relying on junk food sales. For many organizations, candy or cookies just do not fit with their intended values; if this sounds like your situation, reach out to something that appeals to everyone. Dietary restrictions can hold you back as an organization, if you rely solely on their sales to fund your projects.
We proudly work alongside qualified nonprofit organizations to provide a positive material that is fun to sell. Gone are the days of trying to sell melting chocolate to a disinterested party! As summer quickly approaches, discover the advantages of a lightweight product that can withstand the rigors of heat.
Helping People To Flourish In Texarkana, TX
For over twenty years, our day programs have been helping those in the special needs community to improve their interpersonal skills. To learn more, give us a call at Redemption Ranch in Texarkana, TX, at (903)244-1397.