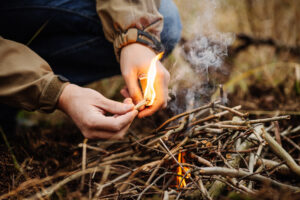 Finding stable development in the 21st century can be difficult, as the world is more uncertain than ever before. For over twenty years, Redemption Ranch has been dedicated to helping adults with disabilities find new independence and dignified personal growth through employment day programs. Our community creates special kiln-fired kindling for campfires during the winter!
Repurposing wood into quick-lighting fire starters has been a fantastic way to connect with our Texarkana, TX community and bring quality kindling to the area. In addition to our retail sales, we also provide these wholesale to certified non-profits for their use in fundraising. These past two decades have flown by, and we are excited to continue to provide you with the best way to start your campfire.
Find Confidence With Dignity
Our day programs in kiln-fired kindling production allows for those with special needs to thrive in an environment that can quickly become natural. The activity of creating a shared product strengthens social bonds in a way that centers the community. For those with social or emotional disorders, interacting with others in this experience can support the connection with people verbally.
This is tethered through the creation of a quality product that participants can feel proud about making. More than that, the effort itself is affirming personal growth in a positive way. Find development that can happen in a way that feels natural.
Developing Roles And Drive
Another way that our process aims to help adults with disabilities thrive is through the self-esteem that a vocation can provide. Independent, self-driven growth in a natural setting can be helpful in fostering this confidence. Our day programs encourage participants to take charge of their own path, with a guided path toward success.
Such interaction can be crucial in the development of new social skills and a sense of belonging. We strive to develop a community of helpful others, lifting all of us up together!
Helping Non-Profit Fundraising
If you work with a non-profit and are looking for a unique product to offer in sales, our kiln-fired kindling is a special way to make a lasting effect. Contact us today about the possibility of supplying your fundraising campaign with a fresh and fun gift. Supporting others is a helpful chain where we all can thrive. We are a family at Redemption Ranch, and we would love for you to become a part of our community!
Supporting The Special Needs Community of Texarkana, TX
We are incredibly proud to serve the wonderful people of East Texas. Our ranch is located in Texarkana, TX and can be reached at (903)244-1397. Redemption Ranch has been operating for over twenty years, and we look forward to fostering positive social development in the area for decades to come!