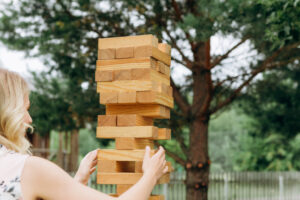 Are you tired of seeing your friends and family have all the fun this summer? If you are looking for an exciting game for the backyard, our ranch has a solution that can help you to give back to the Texarkana special needs community while bringing some wholesome enjoyment for you and your guests. Check out our shop and find your new game, kindling, or outdoor decor, and learn a little about how our employment ministry gives back.
At Redemption Ranch in Texarkana, TX, you have the opportunity to help individuals with special needs! Our ranch is here to give these folks a positive and encouraging place for employment, with a comfortable place for them to thrive. Show your friends and family your values with a new outdoor game that shows that you care about the special needs community of Texarkana!
Our Stacking Brick Tower Game Set Is Sure To Be A Hit!
One of the most exciting ways to pass the time in these hot summer days is with a fun and engaging outdoor activity. Our stacking brick tower game set is a great way to connect with your loved ones over a low-stress game with your friends and families. This game could be the big hit of your next backyard get-together, whether it is a barbecue or a pool party!
If you are looking for a way to liven up your yard, our rustic sign kits are another way to add some flavor to your home. Take a look at our shop and find your next favorite piece of decor!
Repurposed Wood Products From Redemption Ranch Help The Special Needs Community
When you give to Redemption Ranch, you support an employment ministry that is here to help the special needs community of Texarkana. By giving these individuals a positive place to work, our ranch is here for them, helping these people to have a driven purpose. Our goal is to help people with additional hurdles in life to have an area where they can feel accepted and understood.
You can feel comfortable knowing that your outdoor game purchase benefits those in need here in Texarkana. Give us a call and learn about all of the ways that we dedicate ourselves to being a positive place to grow and develop.
Learn More About Redemption Ranch in Texarkana, TX
To find out more about how our ranch is working to improve the lives of those with special needs, we would love to hear from you! Reach out to us at Redemption Ranch in Texarkana, TX at (903)244-1397, and be sure to check out our shop for your new favorite backyard game, made with love from repurposed wood!